Car Hire Hahn Airport (HHN)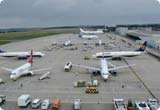 Hahn Airport is completely recognized and known as the Frankfurt-Hahn Airport but is actually located in between the great cities of Luxembourg and Frankfurt. This airport serves local as well as international flights to and from: Moscow, Mumbai, New York, Shanghai and many others.

Hahn Airport is 10 km away from Kirchberg town. So, if you are arriving in Germany at the Hahn Airport, getting a rental car is is a good idea as Frankfurt is approximately 120 kilometers away. Getting a car rental at VIPcars.com is quite affordable because we have an all-inclusive pricing deal which covers: Collision Damage waiver, Vehicle theft waiver, Third party insurances, Airport fee, Local Vat Taxes, Road Fund Tax and more.

Within Frankfurt, there are a lot of activities and amazing architectures to explore. Amongst these landmarks are: the city hall of Romer, the cathedral of St Bartholomew's, St Paul's Church, Haus Wertheim and many others.