Car Rental Hong Kong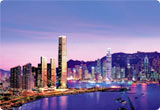 Get a car on rent for Hong Kong online and explore the food capital with utmost ease. In alliance with the leading car rental suppliers, we strive to provide the best-in-class services for online car hire.

Hong Kong is one of the Special Administrative Regions of the People's Republic of China and located on south coast of China. It is renowned for its deep natural harbor and extensive skyline.

A Traveler's Guide on Hong Kong

Ancient traditions, vibrant culture, scenic splendors and heavenly food together define the exquisiteness of Hong Kong. On a tour here, visitors will be surprised by the enigmatic land of diversities and the city of skyscrapers as it is often addressed. From Tian Tan Buddha to Man Mo Temple, the city houses an unparalleled line-up of World-class attractions.

The Other Must-Visits in Hong Kong

Get a splendid view of Hong Kong Island on Victoria Peak over the enormous, wok-shaped Peak Tower. At the Peak, the Peak Tower has a shopping mall offering fine dining, shops, and museums. There are several traditional heritage locations all over Hong Kong such as - Ping Shan Heritage Trail, Fu Shin Street Traditional Bazaar, Tsang Tai Uk, Man Mo Temple, and Che Kung Temple. There are several different museums located in different regions of the country, with the Hong Kong Museum of History located in Kowloon being the most visited of all.

Tsim Sha Tsui East Promenade, Laingyi Museum, Lui Seng Chun and happy Valley Racecourse are other tourist spots that can be visited if car rental for Hong Kong is pre-booked with us online.

Why Visit Hong Kong in Rental Car

Hong Kong is a beautiful place. The road network is equally good here so one can look forward to renting a car for Hong Kong to commute via car. Here, you can experience anything right from soul-searching outings at religious temples to the adventures expeditions by the beach side. Reasons as to why you should be here at least once in a lifetime.

The food capital of Asia is unique yet complete. Be it Vietnamese, Japanese, Cantonese, European or Shanghainese; you will find a vast variety of cuisines here to cater to your appetite. From prawns available by the roadside to culinary creations by celebrity chefs, there is absolutely everything.

One can haggle at the various markets here for a fun shopping experience. Be it the multi-storied swanky malls or street-side shops, the visitors can spot everything inclusive of boutiques, antique stores, fashion houses and so much more. The best part if that anyone of any budget and any specific can find a suitable deal.

Nearly 70% area of Hong Kong is occupied by mountains and country parks. Its striking neighborhoods boast of beaches, Song-dynasty villages and the deserted islands wherein visitors can enjoy a series of leisurely activities.

There is much to explore in and around Hong Kong. However, it is significant that you hire a car for Hong Kong online with us and plan your itinerary at your own will.

What Booking with Us Means

Booking a car rental for Hong Kong online with us entitles you to standard rental advantages besides other value-added features. Our affordable car hire services are all-inclusive of unlimited mileage, liability insurance, no airport fee, no irrelevant taxes, etc. No amendment fee is to be paid if there is change of schedule for car pick-up. Even if you cancel booking 24-hour before pick-up, then no cancellation fee is charged either. Advance booking available!