Car Rental Hong Kong (All Area)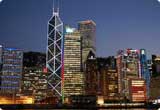 Hong Kong is a bustling hub filled with amusement parks, city sights, shopping districts and food galore. Therefore, to make your vacation a breeze, why not rent a car from VIPcars.com? At VIP cars, we are well-known as an international rental broker with affordable rates.

When in Hong Kong, discover the Ocean Park which boasts of a wide array of marine animals in huge tanks.
Aside from this, the amusement park also has thrilling rides for both adults and children alike. Also featured are land animals that are native to China like Panda bears.

Next stop is Victoria's Peak. You can never really say that you've been to Hong Kong without seeing Victoria's Peak. It boasts of 360 degree views of Hong Kong. It also houses al fresco cafes and restaurants so you can dine while enjoying the view. And beneath the view deck is a three level shopping mall where you can buy a few knick knacks.