Car Rental Ambala (All Areas)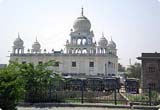 Ambala is a city in the Ambala district of the state of Haryana, India, located on the border with the state of Punjab. Ambala has two sub-areas: Ambala Cantonment (Ambala Cantt) and Ambala City, approximately 3 kilometers apart from each other, therefore it is also known as "Twin City". Ambala cantonment is a military area where you will find personnel from the Indian Army and the Indian Air force as its residents. Places worth visiting in Ambala include the planetarium at Ambala. It is among country's first planetariums, established in the 1950s.

We, at VIP Cars, bring to you rent a car service. Our suppliers cover all the locations in India, including Ambala as a pick up and dropping off location. You can also rent a car with us in Ambala through our telephonic booking lines which are available 24*7.To get the best deals with us book now or call our helpline numbers!