Car Rental Hoshiarpur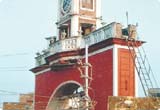 Hoshiarpur is a city and a municipal corporation in Hoshiarpur district in the Indian state of Punjab. Takhni-Rehmapur Wildlife Sanctuary lies at the foothill of the Shivalik range of The Himalayas, in the district of Hoshiarpur. It is home to many wild animals and is full of natural beauty. Another good place to visit in Hoshiarpur is Sheesh Mahal. Sheesh Mahal was constructed in 1911 by Lala Hans Raj Jain. The interior walls and roofs of the palace are decorated with glass work.

Most of the places in Hoshiarpur can be easily covered if you plan your trip in advance by booking your car with us, VIP Cars. We, at VIP Cars, have association with the best suppliers throughout Kullu and nearby places. In case you want to get your pick up at one place and leave the car at another, you can do so as we have many pick up locations across the country. To get the best of our deals call now and book with us!