Car Rental Fontanarossa Airport [CTA]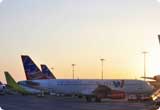 Fontanarossa, also called Venezio Bellini International airport, is the international airport serving Catania and region. It's a fairly large airport with many carriers operating out of it. There are major carriers such as British Airways and Air Berlin as well as smaller, discount carriers who offer flights to and from Fontanarossa. Destinations from this airport include most major Italian cities, as well as several major European cities
The airport offers a full range of service to travellers. In the airport there are banks/cash exchanges, a post office, various places to eat and VIP Lounges. Assistance for travellers with special needs is also available. A shopping centre and convenience store are inside the main facility.

Once you arrive in Catania, you'll find a city filled with many interesting opportunities. You are best advised to rent a car, for maximum convenience. Make your booking from VIP cars today.