Car Rental Riga Airport [RIX]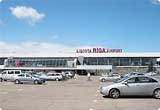 Riga Airport is one of the main gateways into the beautiful Baltic country of Latvia. Part of the former Soviet Union, people can enjoy the unspoilt charms of Latvia and discover the many different aspects of this delightful country. International and domestic flights fly in and out of Riga Airport daily. A relatively new airport, built in the early 1970s, Riga Airport is only 10 kilometres away from the heart of the capital city.

Combining gorgeous sandy beaches, historical towns, stunning architecture, great shopping, vibrant night life and family friendly activities, it is apparent why Riga is seeing more and more travellers. A rented car from Riga Airport allows anyone to fully appreciate the charms of the area, at their own pace and in whatever order that they choose. VIP Cars provides a wide selection of rental cars to meet all budgets and requirements.