Car Rental Luxembourg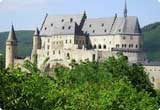 A small landlocked country in Western Europe, Luxembourg shares borders with France, Germany and Belgium. There are two main areas within Luxembourg; the Gutland in the South and the Oesling part of the Ardennes mountain range, in the North. The head of state is a grand duke, making Luxembourg the world's last remaining grand duchy.

Influences from neighbouring countries have helped to shape the culture and cuisine, providing a true blend of styles. Activities in Luxembourg often focus on its great outdoors, with hiking and cycling in the stunning mountain regions a very popular way to explore the country's nature. The Moselle wine region is another well-liked place to visit and the capital city is the main cultural heart, with rich architecture. VIP Cars provide rental cars across all regions of Luxembourg, allowing you to discover this amazing land of contrasts.