Car Rental Luxembourg City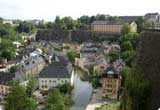 Luxembourg City is the capital of Luxembourg, the country. A busy city, Luxembourg City really shines as a cultural, historic and modern European city. Visitors are drawn to Luxembourg City for the great variety of attractions to do as a tourist, as well as the easy access to splendid countryside areas. Luxembourg City also sees many business visitors, as well as diplomatic and political figures.

Whatever the reason for your visit to Luxembourg City, you can arrange a well priced rental car from VIP Cars. Providing cars to all types of travellers, VIP Cars lets you find cheapest deals for a hassle free rental experience. A hire car is a good way to get around Luxembourg City's road networks, as well as exploring the nearby areas.