Car Hire Hotel Kempinski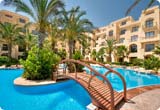 Located in San Lawrenz on the island of Gozo, the Hotel Kempinski is an oasis of calm, beauty and tranquillity. It is the perfect place to relax, unwind, be pampered and refresh yourself ready for your adventure on the stunning island of Gozo.

Gorgeous room with lavish decor and excellent amenities, an on-site spa offering a range of beauty and wellness procedures, fitness activities, elegant restaurants with delectable food, friendly staff, a heavenly pool, enchanting gardens, business facilities and a dive centre all combine to create a small piece of perfection in the Gozo countryside. VIP Cars offers a rental pick up at Hotel Kempinski to let you plan your wonderful Gozo experience. Explore the hills, forests and waterfalls of the scenic natural surrounding areas. See the small villages. Visit the beaches and marvel at the curious rock formations. With a choice of cars and great prices, car rental from VIP Cars is a perfect way to plan your stay.