Car Hire Qawra Downtown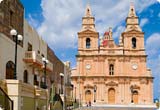 Less than 20 kilometres away from the Maltese capital of Valetta, and enjoying a prime position in St Paul's Bay, the Quwra Downtown area is a top tourist destination. Known as one of the more touristy areas of Malta, there are many activities to keep young and old alike. Swimming and sunbathing is popular around the large rocks and water sports ensure squeals of laughter. Banana boats, speed boats and jetskis can be seen frequently whizzing along in the waters.

Entertainment forms a big part of the appeal for foreign visitors, and fine restaurants, numerous sumptuous hotels, bars, night clubs and casinos help visitors to unwind and escape the toils of daily life back at home. Another great way to relax is to drive into the surrounding areas, for peeks of astounding scenery, sandy beaches and cute historical cultural towns. Contact VIP Cars today for a competitive quote on a hire car to compliment your stay in Quwra Downtown.