Car Hire St Pauls Bay Downtown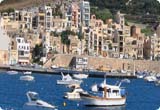 A modern centre of tourism, the St Paul's Bay Downtown area sees a dramatic increase in population levels over the warm and sunny summer months. Both Maltese nationals and foreign visitors flock to this beloved area of Malta. St Paul's Bay Downtown has seen a lot of development to cater to the needs of visitors; many hotels, bars and restaurants line the streets and there are several lively nightclubs.

Various entertainment and leisure pursuits are available from those wanting to break up lazy beach days. There are also several attractive natural highlights nearby, including other stunning bays, and the Wadija Ridge. These can be explored with ease with a rented car from VIP Cars. You may also like to drive a bit further away and discover more of Malta's culture, history and traditions. Good road links make this a great way to see more of Malta from St Paul's Bay Downtown.