Car Hire Valletta Downtown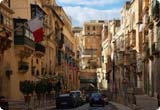 Valletta's Downtown is a bustling area within the heart of the beautiful capital city. With something for everyone, a stay in Valletta Downtown is sure to be a fantastic time. Surrounded by a staggering number of places of interest and beautiful sights, well connected to other parts of the country and with numerous hotels, restaurants, bars and other leisure and entertainment activities, Valletta Downtown is a truly loveable place in a fantastic city.

Museums, gardens, palaces, fountains, watch towers, art galleries and forts add to the area's cultural and historical charms. Mixing old and new, Valletta Downtown is also a busy commercial area, so does see some business travellers as well as tourists. VIP Cars offer great all inclusive packages on car rentals for your stay in Valletta Downtown. With a variety of vehicles to choose from and a choice of pick-up locations, we let you plan your rental as per your itinerary.