Car Rental Netherlands Antilles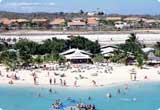 Netherland Antilles refers to a former country in the Caribbean. Made up of several different islands, the Netherlands Antilles was an autonomous country that came under the Kingdom of the Netherlands. When the country was dissolved, all the islands remained part of the Kingdom of the Netherlands, although by a different legal status.

There were two island groups in the Netherlands Antilles; Aruba, Bonaire and Curacao in the Leeward Antilles and Saint Maarten, Saba and Saint Eustatius in the Windward Island group. The Name Netherlands Antilles may still be used to refer to the islands and, in some cases now, the separate countries that made up the former country. Because of the different mix of peoples with their different cultures and traditions that live across the islands, the islands of the former Netherlands Antilles is a fascinating destination for international visitors. Car hire can be arranged by VIP Cars on the islands, where public transport may not be readily available.