Car Rental Managua Airport (MGA)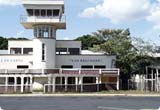 A military cum civilian aerodrome facility, Managua Airport is also known as Augusto Cesar Sandino International Airport. Owned and operated by Republica de Nicaragua and EAAI respectively, the airport is famous for its duty free shops, restaurants, comfy passenger waiting lounges, and bars. VIP Cars, a car rental broker major, offers competitively priced Managua Airport car rental deals through Alamo, its trusted affiliate.
Hub for four leading airlines namely, Air Nicaragua, Avianca Nicaragua, Copa Airlines, and La Costena, Managua Airport ranks among the busiest airports of Central America, with its annual passenger enplanements estimated to be more than 1.5 million.

Book a super saver Managua Airport car rental deal from VIP Cars now!