Car Rental Managua Downtown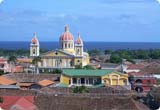 A famous nightlife destination, Managua Downtown is dotted with number of restaurants, bars, nightclubs, and discotheques. As majority of the downtown has undergone significant restoration, one can also find large commercial centers, in addition to monuments, art galleries, museums, and land marks. Well connected by an extensive road network, Managua Downtown is conveniently doable in a rental car. With VIP Cars offering budget friendly Managua Downtown car rental deals, you are assured of low domestic commuting costs and a complete hassle free driving experience. Be it's a business trip or a leisure holiday, VIP Cars has the right car as well as right Managua Downtown commuting deal for you.

Look no further than VIP Cars powered Managua Downtown car rental deals!