Car Rental Asuncion Airport (ASU)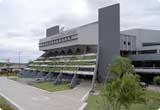 Asuncion Airport also known Silvio Pettirossi International Airport is main national and international gateway of Paraguay. Asuncion Airport is situated at Luque suburb of the capital Asuncion. The airport was earlierrecognized as Presidente Stroessner International Airport. Asuncion Airport serves as a hub for TAM Airlines. The airport terminal building divides into domestic and international concourses with 2 gates and 4 gates individually.The airport is close by the headquarters of CONMEBOL. Asuncion city is home to the Museo Nacional de Bellas Artes, Godoi Museum, Metropolitan Cathedral, the Church of La Encarnacion, and the National Pantheon of the Heroes.The city has luxurious malls that comprise shops selling renowned brands. The most prominent shopping malls are Shopping del Sol, Shopping Villa Morra in the central part of the city, Mariscal Lopez Shopping, and the Mall Excelsior downtown.

Rent a car from VIP Cars now!