Car Rental Cuidad Del Este Downtown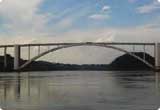 Ciudad Del Este is the 2nd major city located in Paraguay. Ciudad Del Este is the capital city of Alto Parana Department and connected to Foz do Iguacu city, Brazil through an international bridge over the Parana River. The city established in 1957 and is the seat of the Roman Catholic Diocese of Ciudad Del Este. Guarani International Airport is main airport of the city and situated in the suburb city of Minga Guazu. Ciudad Del Este is the foremost shopping destination and the key shopping streets are Camilo Recalde and Sam Blas.

Whether traveling alone or with family, VIP Cars offer comfortable car rental services in Ciudad Del Este Downtown with a wide range of cars.