Car Hire Pico Downtown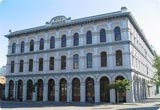 Pico is the southernest island located in the central group of Azores lies east of Faial and southwest of Sao Jorge from which it is distinguished by about 18km wide Canal de Sao Jorge. Pico town and its oldest settlement is the whaling port of Lajes on the south coast with a town hall and parish church constructed of black lava. The whaling museum in Lajesvividlyshows how perilous whaling has been still in our hi-tech age. Two other small ports are Cais do Pico on the north coast and Madalena on the northwest coast. The key tourist attraction on the island is the Pico Alto, a still active volcano. Trips to Faial and S. Jorge are one ferry trip away. It takesyears to get to know Pico as it is sort of destination where one must dodge the car to explore all that it has to offer.

Avail top-notch Pico Downtown car rental deals at us.