Car Hire Ponta Delgada Downtown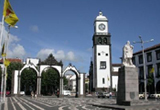 Ponta Delgada is a city located on the island of Sao Miguel in the archipelago of the Azores, Portugal. Lagoa das Cidades Furnas Villa do Nordeste Sightseeing is a key tourist attraction in Ponta Delgada. One of the best places to see is Furnas where you can find out natural hot springs and also the Gorreana Tea Factory. The 2nd biggest destination is the Lagoa do Fogo which are stunning volcanic landscapes and attractive scenery of the beaches. Another outstanding place to visit is the Noreste. You may also need to pay to visit to SeteCidades. Here you will discover breathtaking scenery of Lagoa Verde and Lagoa Azul. The Church of Sao Jose is a historical landmark in Ponta Delgada. The more adventuresome like to go whale watching at Blue Talassa.

Travelers can make use of Ponta Delgada Downtown car rental for comfortable and hassle-free commuting.