Car Hire Sao Jorge Downtown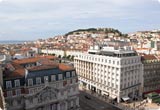 Sao Jorge is one of the mostscenicallystriking and friendly islands in the Azores. The main municipalities of Sao Jorge are Calheta and Velas. Sao Jorge Island has asunken coastline looking with an oblong shape. A mountain range builds the back-bone of the island and its utmost peak, the Pico da Esperanca offers outstanding views of the other islands of the central group. Sao Jorge is also recognized as one of the island of the triangulo which also contain Pico and Faial. The Faja of the Caldeira do Santo Cristo is in the Ribeira Seca area and it is a protected nature reserve with abelowground cave and a lake. A walk alongside the sea-shore close to Urzelina gets one to the Furnas da Pombas, a peculiar volcanic rock formation which is inhabited by wild pigeons.

Car rental in Sao Jorge Downtown is the comfortable and low-cost option for all the travelers.