Car Rental Portugal - Madeira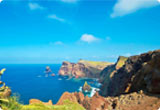 Madeira is a sub-tropical archipelago situated in the Atlantic Ocean and a sovereign region of Portugal. This is part of the European Union ultra-perifric area. Renowned globally as the Islands of eternal spring, Madeira or Pearl of the Atlantic, it has a mild climate all around the year. Madeira Islands are only a short trip from Europe to a destination where you can enjoy holidays by the sea, in the city or in the mountains.

Madeira is famous for its Madeira wine, landscapes, flowers and for its annual New Year celebrations that boast the largest fireworks show in the world. Magnificent views of the island can be viewed from several viewpoints including Pico dos Barcelos, Pico de Facho, Curral das Freiras, Pico de Arieiro, and Monte. Car rental in Portugal-Madeira from VIP Cars is the best and low-cost option to explore all the attractions easily.