Car Rental Funchal Downtown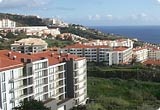 Funchal is the major city and the capital of Portugal's Autonomous Region of Madeira. Funchal was asignificant shipping center during the 15th-17th centuries. It is one of the most attractive cities in Portugal. Funchal is a foremost tourist town with port, hotels and an international airport Funchal Airport. Tourist destinations in the city include - Curral das Freiras, Ribeira Brava, Santana, Poto Moniz, a UNESCO Natural Site, the Laurisilva forest, and the beaches in Porto Santo Island. Monte Palace Hotel Gardens has a Chinese garden, a small lake, artwork, and a diversity of flora and fauna. Colegio Church is a prominent building with a superb interior. Funchal is world-famous for its wines. Various stores offer varying selections.

Contact our friendly customer support team to book your car rental for Funchal Downtown.