Car Rental Condado Cruise Ship Area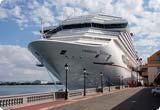 A prominent car rental pick-up and drop-off location, Condado Cruise Ship Area is well served by Sixt and Charlie Car Rental, our trusted car rental affiliates for the Republic of Puerto Rico. VIP Cars has come up with a revolutionary multicurrency booking engine that lets you book a cheap Condado Cruise Ship Area car rental deal in just three easy steps, right from your home. Additionally, you get exclusive benefits such as, 24/7 reservation assistance as well as no cancellation fee if a Condado Cruise Ship Area car rental deal is cancelled 24 hours before the pick-time, from VIP Cars.

No need to search any further! Book now and avail special offers and deals!