Car Rental Harbour Capitainerie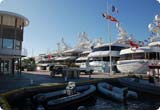 HarbourCapitainerie is the port of St Barthelemy that is open seven days a week from seven in the morning until six in the evening. HarbourCapitainerie has two facilities the commercial port and the marina where you can anchor your yacht and check out the many beaches and scenic spots within the islands. You can easily and comfortably do this with a car rental. Booking can be done online and you can choose from widest collection of cars.

From HarbourCapitainerie you can drive straight to top most beaches of this Caribbean island. The recommended ones are Anse du Colombier and Anse du Gouverneur.
Find cheapest deals with us and plan your vacation. Our tie-ups with top suppliers allow us to give you best rental options at most competitive prices. Call us now to book your car!