Car Rental St Marten Downtown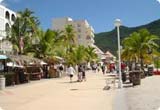 St Maarten Downtown is located on the Dutch side of the St Martin Island. The main commercial center of the island, the downtown area is located in the town of Philipsburg. It has a number of establishments such as hotels, restaurants and shopping centers in it. Grand Marché and Sangs supermarkets are popular places to look for a range of items ranging from food items such as Gouda cheese to electronics. Most products here have international warranty although travelers might have to check what a particular warranty covers for respective products. The downtown area is also home to a variety of restaurants and multiple fast food joints such as McDonalds, Domino's, Pizza Hut, KFC, Burger King and Subway, along with a few cafes.

So, book now and explore the Sint Maarten Downtown area with ease and comfort in a rental car hired through VIP Cars.