Car Hire Sri Lanka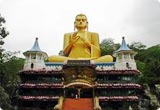 Sri Lanka previously known as Ceylon is an island country located in the Indian Ocean, off the southern coast of the Indian subcontinent in South Asia. Sri Lanka has been known as 'The tear drop of India' because of its location and shape and is also known as The Pearl of the Indian Ocean because of its natural beauty.
Beach towns, paddy fields, hilly cities, resorts, wildlife safari, temples, ancient ruins, historic places, surfing spots and rainforests are few of the highlights of Sri Lanka, a country with lush green natural surroundings. Its pristine beauty is well explored if you have a car to drive around cities like Galle, Anuradhapura, Kandy, Colombo, Ratnapura and more.
During surfing months, November to April, you can surf in the western and southern coast. April to September is popular time for Kite surfers.

We give you easy online rental booking at most competitive prices, as you search and book your deal from top rental brands in Sri Lanka. Call us to know more about deals available!