Car Rental Kiruna Airport [KRN]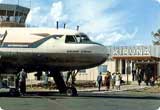 Kiruna Airport (KRN) is the northernmost airport in Sweden and is located southeast of the city of Kiruna, 8 kilometers by road. Scandinavian Airlines connects a few flights daily to Stockholm Arlanda either directly or via Luleå or UmAeå with seasonal trips to Copenhagen, London Heathrow, and Tokyo Narita airports.

To plan your stay in Kiruna and explore local attractions, book your car rental in advance. At VIPcars.com we offer all-inclusive pricing package, you get unlimited mileage and a wide selection of vehicles to choose from. Luxury cars, sedans, or SUVs, you can drive around Kiruna in style suited to your traveling lifestyle.

Find you car rental for Kiruna Airport now!