Car Rental Stockholm City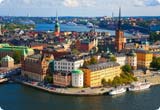 Stockholm City is a veritable Swedish vacation spot with plenty of historic sites, modern edifices and amusing structures to keep you occupied for a week. Exploring Stockholm City is easy especially if you have a rented car. Quick and easy online bookings are available at VIPcars.com and you can choose from a wide fleet, which includes cars from luxury as well as economical segments.

For a taste of the old Stockholm City come and explore the following: The KlaraKyrka, Adolf FrederiksKyrka and the National Museum at Sodra Blasieholmshamnen filled with paintings by Degas, Renoir, Goya, Rubens, Rembrandt and so much more.
For a taste of modern sights within Stockholm City check out: The house of Culture, Soder Torn and the Museum of Modern Art which showcases masterpieces by Irving Penn, Salvador Dali, Picasso, Matisse and many more.

Call now to book your car rental!