Cheap car rental at Geneva Airport
Searching for the best deal on car rental for Geneva Airport? Your search ends here as you can get the cheapest car rental deal in just 3 easy steps; Search, Select, and Book!
In collaboration with Europe's leading car rental brands, including Alamo, Enterprise, Europcar, Hertz, National, Rent Occasion, and Sixt, we give you free access to all sorts of economical car rental deals for Geneva Airport. Moreover, we offer a wide range of car categories to choose from, starting from compact cars and intermediate sedans to vans, SUVs, convertibles, and luxury cars.
How to book the best GVA Airport
car rental deal from VIPCars?
---
As you fill in your intended travel dates, we show you the list of available rental car categories, actual pricing, rental inclusions, and most importantly the name of the car rental company concerned.
With worldwide trusted supplier brands to choose from, VIP Cars makes it very convenient to get the cheapest car rental deal at GVA. Plus, you are assured of the following critical facts:
Secured by a new age encryption technology, our website keeps your confidential details totally secured, while you make a car hire reservation online.
Our 24/7 customer support team is prompt in handling all your queries related to rental car reservation for Geneva Airport.
We don't levy any commission or hidden charges when you use VIP Cars to book a rental car
Our network of brands allows us to display the best rental cars for GVA Airport to let you compare & pick
Need more reasons
to go for a rental car in Geneva?
As Geneva Airport is situated at the border of France and Switzerland, having a rental car allows you to cover as many places as you want on both sides of the border.
Be it day trips, local shopping spree, or a long unwinding road trip across neighboring cities of France and Italy, a rental car at GVA undoubtedly remains a hassle-free option.
Hiring a car relieves you of the stress of organizing a mode of transport every time you step out of your hotel.
About Geneva Airport
One of the major freight hubs of the European Union, Geneva Airport (GVA) handles more than 14 million passengers every year. Earlier known as Cointrin Airport, the GVA caters to several leading international airlines.
As the airport is just 2.5 miles away from central Geneva, hiring a car from Geneva Airport is unsurprisingly popular among families, leisure tourists, and business travelers.
| | |
| --- | --- |
| Address: | Route de l'Aéroport 21, 1215 Le Grand-Saconnex, Switzerland |
| IATA Code: | GVA |
Location of car rental desks at Geneva Airport's Swiss side
The location of car rental desks on the Swiss side of Geneva Airport is on the Arrivals level, near La Poste. For returning your rental car at the airport, the location is car park P51 on the lower level. Picking up a car rental from the Swiss side of the airport and returning it on the French side, might cost you extra.
Terminals at Geneva Airport
The airport has 2 passenger terminals:
Terminal 1

T1 or Terminal 1 is the newer and the larger terminal catering to the majority of the flights. The terminal is divided into Pier A, B, C & D which are located on the Swiss side.

Terminal 2

T2 or Terminal 2 is the seasonal terminal which is smaller in size and used only in the winter charter season. The terminal has only one restaurant in terms of facilities.
Geneva - The smallest of the big cities
One of the most beautiful European cities, Geneva is known for its wealth of captivating natural views. Besides being center of international diplomacy, Geneva is home to several awe-inspiring museums, profoundly designed art galleries, and delightful gardens. Geneva's prominent landmarks include: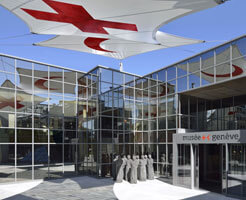 Intl. Red Cross & Red Crescent Museum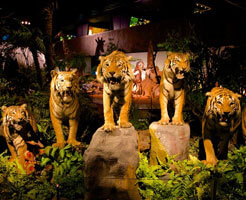 Natural History Museum of Geneva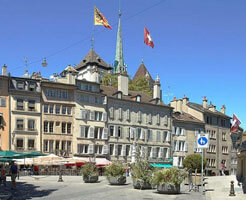 Place du Bourg-de-Four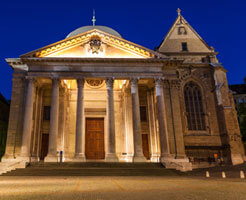 St. Pierre Cathedral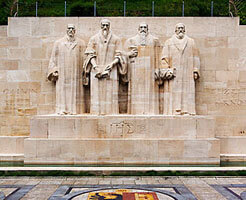 Reformation Wall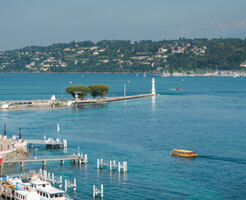 Bains des Paquis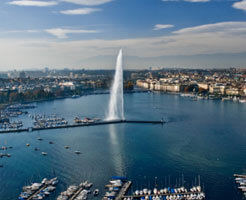 Jet d'Eau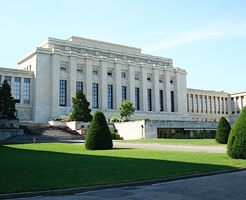 The Palace of Nations
Popular road trips from Geneva
In addition to literally uncountable options of day trips from Geneva, you can also try a road trip to other popular tourist cities situated in France and Italy.
Geneva - Annecy
About 42 km/26 miles via A41
Driving time : 43 minutes
One of the beautiful towns nesteled in southeastern France, Annecy is famous for Lake Annecy, snow-capped mountains, cobbled streets, canals, and the picturesque Château d'Annecy.
Things to do in Annecy
Boating in Lake Annecy

Rent a paddleboat and enjoy boating in Lake Annecy, while admiring the captivating views of surrounding mountains.

Walk along canals

Enjoy a leisurely stroll along the canals of Annecy. The cobblestone streets, bright flowers, and pastel houses are worth watching.

Visit Palais de l'Isle

A popular history museum, this structure's history dates back to the 12th century. Take a picture or even go inside to know more about its existence.
Geneva - Besancon
About179 km/111 miles via A1
Driving Time: 2 hours 30 minutes
Situated in eastern France, Besancon lies very close to the Swiss border. The town is famous for the Citadel of Besancon – a UNESCO World Heritage Site.
Top attractions in Besancon
Citadel of Besancon

The 17th-century fortress is a masterpiece designed by Sébastien Le Prestre de Vauban. The Citadel remains open from 10 am – 5 pm every day, so plan a visit accordingl

Besancon Public Museum

One of the oldest public museums in France, the Musee des Beaux-Arts et d'archeologie de Besancon features an exquisite collection of paintings and other relics.

Besancon Cathedral

The Cathedral of St. John of Besancon is a Roman Catholic church featuring several rare pictures and a massive 19th-century astronomical clock.
Geneva - Gruyeres
About 167 km/104 miles via A40
Driving Time: 2 hours
A charming commune in northern France's Ardennes department, Gruyeres lies in the region commonly known as the pre-Ardennes ridges.
Things to do in Gruyeres
Stroll on Roman Roads

Enjoy a leisurely stroll on the network of ancient roads meant to fasten the road travel. Often constructed in a straight line, the roads cross through the commune.

Visit Castle Gruyeres

A citadel that has evolved over the centuries, the Castle of Gruyeres is famed for its innovative use of a yellow stone under a slate roof.

Find a Dolmen

Spend a little time in searching a dolmen, a prehistoric megalithic structure consisting of large vertical and horizontal slabs placed neatly.
Geneva - Chamonix
About 82 km/51 miles via A40
Driving Time: 1 hours
The site of first Winter Olympics of 1924, Chamonix-Mont-Blanc is a leading ski resort destination situated near the gigantic peaks of Aiguilles Rouges.
Things to do in Chamonix
Visit Mont Blanc Tramway

Enjoy the spectacular views of mountain peaks in a world-famous tramway. The line runs from Saint-Gervais-les-Bains Le Fayet station to the Nid d'Aigle station.

Ride Vallée Blanche Cable Car

Enjoy the breathtaking views from a cable car that connects the two mountain peaks 5 km apart. Your cable car ride will not consume more than 40 minutes.

Visit Musee Alpin

Learn more about mountaineering and other associated sports through vibrant displays. The museum opens every day from 10 am to 6 pm.
Geneva - Paris
About 540 km/336 miles via A40 & A6
Driving Time: 5 hours 30 minutes
One of the finest European cities, Paris is famous for its architecture, culinary delights, world-famous boutiques, and a graciously large artistic heritage.
Top attractions in Paris
Eiffel Tower

Named in the honor of engineer Gustave Eiffel, the 300 m long world-famous wrought iron structure remains open every day from 9:30 am to 11 pm.

The Louvre

A major historic monument and the world's largest repository of art, the Louvre Museum is open to visitors on all days from 9 am to 6 pm except Tuesday.

Notre-Dame de Paris

A medieval Gothic cathedral, Notre-Dame is famous for its rare collection of Catholic relic, Crown of Thorns, a small part of the True Cross, and one Holy Nail.
Geneva - Lyon
About 148 km/92 miles via A40 & A42
Driving Time: 2 hours
One of the largest French cities, Lyon is distinguished for its spectacular landmarks, delectable cuisine, and the UNESCO World Heritage sites.
Things to do in Lyon
Enjoy picnic at Parc de la Tete d'or

Sprawling across 117 hectares, this large public park will let you invigorate your senses. You can also enjoy boating in a lake.

Visit Basilica of Notre-Dame de Fourviere

An immensely popular place for pilgrimage, the Fourviere is an imposing structure that besides its architecture is known for its Museum of Sacred Art.

Enjoy walk at Place Bellecour

Discover the artistic heritage of central Lyon by taking a leisurely stroll at La Place Bellecour. Don't miss a visit to the art gallery located near one of the pavilions.
Geneva - Dijon
About 262 km/163 miles via A40 & A39
Driving Time: 2 hours 40 minutes
Dijon City, the capital of France's Bourgogne-Franche-Comte region, is famed for its meticulous preservation of different architectural styles.
Things to do in Dijon
Visit Palace of the Dukes of Burgundy

One of the oldest estates of France, the palace of Burgandy features a well-preserved architectural heritage from the 17th, 18th, and 19th centuries.

Relax at Jardin botanique de l'Arquebuse

Spend quiet moments amid relaxed settings of a famous botanical garden. Situated within a large park, the garden remains open from 8 am to 8 pm daily.

See artwork at Musee Magnin

Featuring an amazing treasure trove of 2,000 collections, this national museum opens on all days from 10 am to 6 pm, except Tuesdays.
Geneva - Nice
About 617 km/383 miles via A7 & A8
Driving Time: 6 hours
Famous for its natural beauty and temperate climate, Nice is nestled in the foothills of Alps. This French Riviera-capital city is also home to several notable museums.
Things to do in Nice
Have fun at French Riviera

This southeastern France's Mediterranean coast is a famous holiday destination. The place is renowned for its beach resorts, coastal towns, and villages.

Take stroll at Promenade des Anglais

Covering an approximate distance of 4 miles, this famous walkway extends from west to east. It is also the location for the annual Nice Carnival.

Visit Musee Matisse

Dedicated to Henri Matisse, this museum features an extensive collection of his work. The museum opens on all days from 11 am to 6 pm, except Tuesdays.
Geneva - Turin
About 250 km/155 miles via E25
Driving Time: 3 hours
A bustling city in northern Italy, Turin is famous for its art galleries, palaces, squares, gardens, and varied forms of architecture.
Top attractions in Turin
Museo Egizio

Featuring more than 30,000 objects focusing on Egyptian anthropology and archeology, the Museo Egizio open every day from 9 am to 6:30 pm.

Mole Antonelliana

Named after Alessandro Antonelli, a prolific architect of the 19th century, Mole Antonelliana is an important landmark that remains open from 9 am to 8 pm.

Palace of Venaria

A UNESCO World Heritage Site, the Palace of Venaria is a former royal residence. Except for Mondays, the palace is open to general public from 9 am to 5 pm.
Geneva - Milan
About318 km/198 miles via E25
Driving Time: 4 hours
Milan, the capital of Italy's Lombardy region, is known for its trendsetting fashion and design. A tourism hub, Milan offers plenty of sightseeing options.
Top attractions in Milan
Milan Cathedral

Dedicated to Mother Mary, Milan Cathedral is one of the largest churches in Italy. Built over six centuries, the cathedral attracts thousands of visitors daily.

Galleria Vittorio Emanuele II

One of the oldest shopping malls in the world, the Galleria is named after Italy's first king. Open 24-hours a day, the mall is a great place to enjoy shopping.

Sforza Castle

This 15th-century castle built by the Duke of Milan is one of the biggest fortresses of Europe. Don't miss paying a visit to worth seeing museums located inside.
Geneva - Genoa
About 402 km/250 miles via E25
Driving Time: 5 hours
The capital of Italy's Liguria region, Genoa is distinguished for its Old Town, a UNESCO World Heritage site, picturesque landmarks, and illustrious past.
Things to do in Genoa
Visit Aquarium of Genoa

One of the largest aquariums in Europe, the Aquarium of Genoa is home to nearly 500 species of aquatic animals. The aquarium opens every day from 9 am to 8 pm.

Explore Doge's Palace

A major center for arts' exhibitions and cultural events, the Doge's Palace is a central place. Plan a visit accordingly as the place remains open from 9 am to 6 pm.

Visit Galata Museo del Mare

Discover something extraordinary at Galata Museum as the place houses some exquisite maritime objects. The museum opens every day from 10 am to 7:30 pm.
Geneva - Chateau de Chillon
About 103 km/64 miles via A1 & A9
Driving Time: 1 hours
A charming destination in Lake Geneva area, Chateau de Chillon is a famous historic monument. The place is known for its relics dating back to the 14th century.
More information on Chateau de Chillon
Brief history

Chillon's history dates back to the 12th century when the Dukes of Savoy occupied it. As an important location, the place saw a change of guardianship repeatedly.

Getting there

You'll locate Chateau de Chillon on the A9 motorway between Villeneuve and Montreux. You can park your car at a designated spot for free.

Opening time & fee

The castle remains open throughout the year except for 25 December and 1 January. Opening time is 9 am and the entry fee is CHF12.50 per person.
Geneva - Zurich
About277 km/172 miles via A1
Driving Time: 3 hours
Zurich is known for its surroundings, shopping areas, and active nightlife. Attracting holidaymakers in large numbers, Zurich is a busy place throughout the year.
Top attractions in Zurich
Lake Zurich

Extending toward the city's southeastern end, the Lake Zurich is famous for its awe-inspiring natural beauty and a variety of water sporting events.

Swiss National Museum

Situated near a major train station, the museum specializes in showcasing Europe's cultural history, hundreds of artifacts, handicrafts, and paintings.

Grossmunster

The 9th-century Roman cathedral is distinguished for its twin towers overlooking the city, glasswork, and the Reformation Museum.
Geneva - Bern
About 157 km/98 miles via A1
Driving Time: 2 hours
Bern City, the capital of Swiss Confederation, is one of the leading European cities in terms. The Swiss capital is renowned for its wealth of touristy places.
Things to do in Bern
Visit Einsteinhaus

The former residence of Albert Einstein is now a famous museum. Notable attractions include research papers on quantum physics and old furniture.

Watch bears at Barengraben

This 12th-century bear enclosure continues to attract tourists until now. A Swiss heritage site, Barengraben forms the part of Bern's Dahlholzli Zoo.

Visit Zentrum Paul Klee

Dedicated to Paul Klee, a notable German artist, the Zentrum features his remarkable collection. The museum opens on all days from 10 am to 5 pm, except Mondays.
Car rental tips for Geneva Airport (GVA)
Whether you plan to fly to Geneva for a brief spell or a longer duration, rent a car from Geneva Airport to make most of your time. Book a rental car online for Geneva Airport and drive straightaway to the city as you step out of the airport. Keep the following tips in mind as you get ready to drive:
Don't forget to bring your driving license, along with a valid photo identification proof, as all major car hire companies at Geneva Airport seek these documents before handing over the car keys to you.
Note that if you get a rental car from the French sector and choose to return at the Swiss sector, your car hire Supplier may charge additional fee.
Buy and paste a country specific vignette sticker on your rental car's windscreen if you plan to drive to either France or Italy. Sticker is also required if you are entering Switzerland after getting your rental car from the French side.
Save on your fuel cost by getting your rental car refueled in France if you are using a petrol car. Per liter cost of petrol is cheaper in France than Switzerland.