Discount Car Rental Deals for Phuket Airport (HKT)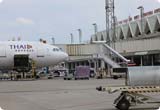 Pre-book a cheap car hire at Phuket International Airport from VIP Cars and save big on your traveling cost. At VIP Cars, you can search and compare prices quoted by some of the top suppliers in the market, at one place. We have been helping hundreds and thousands of travelers in finding them their perfect car rentals for HKT Airport – the busiest airport in the Southern Thailand. And since HKT Airport is 32km from Phuket city center, hiring a car seems the best way to reach Phuket as it will also allow you to explore the city and its neighbors in absolute freedom!!
Get your Phuket Airport car rental today and save more!
Car Rental Desks at Phuket Airport (HKT)
At VIP Cars, we negotiate directly with all the leading car suppliers to offer our customers the best HKT Airport car hire deals at the lowest possible prices. VIP Cars' below-listed partner suppliers have their car rental desks at Phuket International Airport:
National
Hertz
Sixt
Budget
How to Book with Us?
You can book your car hire for Phuket Airport through any of the below-listed paths:
Book online directly at VIPCars.com by filling the search form, or
Make a phone booking by calling our booking support at the number given for Thailand in the 'Contact Us' section.
Car Categories and Fuel Types
At VIP Cars, we offer our customers a wide fleet of rental cars, that falls into two fuel categories, i.e. 'Petrol and Diesel'. The following are the car categories that you can expect to see while searching for your HKT Airport car rental:
Economy
Compact
Standard
Luxury
SUV
Choose the fuel type wisely to cut your travel costs.
Inclusions Offered With Our HKT Airport Car Hire Deals
Our Phuket Airport car rental deals come inclusive of several useful benefits, such as:
Unlimited Mileage
Collision Damage Waiver (CDW)
Theft Waiver (THW)
Third Party Liability Insurance (TPL)
Personal Accidental Insurance (PCI)
Airport Surcharge Taxes
All the aforementioned extras are inclusive of our final quoted prices and carry no additional/hidden charges. Also, note that it is a tentative list, it may vary from supplier to supplier.
Upgrade your Phuket Travel Experience with our paid add-ons
As already stated by booking with VIP Cars you get a couple of inclusions with your car hire, but in case you want to rent something extra, our suppliers offer various paid add-ons, listed below:
Additional Drivers
GPS-Navigation System
Baby/Infant Seats
Rail racks.
As different suppliers offer a different set of extras, the above-given list is provisional and can vary from supplier to supplier.
Phuket Airport Car Rental – Minimum Age Requirements
The usually observed minimum age limit is 21 years; however, we must notify that it completely depends on the supplier with whom you are renting a car. Also, note that drivers falling under the age segment of 25 years might incur an additional 'young driver' surcharge.
Cross-Border Travel
Cross-border car rental is strictly prohibited in Thailand. On doing so, all insurances lose their validity and the driver has to also bear a penalty amount.
Phuket Airport Car Rental –FAQs
What documents do I need if I want to hire a car at Phuket Airport (HKT)?
To be eligible to rent a car at HKT Airport, you need driver's license issued in your name, a credit card (bearing the name on the driving license) and a passport (or any other identity proof issued by your native country).
---
Do I need to have an international driving license?
As per Thai law, every driver needs to have a driver license, no matter by which country it has been issued, it can be Thai, overseas, or international driving license.
---
Is there any additional charge for additional drivers?
It totally depends on the supplier; while some suppliers offer additional driver add-on, free of charge, others charge for it. Add-ons appear at the last stage of booking.
FAQs on Driving in Phuket, Thailand
What do I have to know before driving in Phuket, Thailand?
Keep the following points in mind while driving your car rental in Phuket.
You must always have your driver's license while driving; and if not that then, the international driver's license.
If there are passengers accompanying you in your HKT Airport car hire, make sure that you and the passenger sitting in the front are wearing the seat belt, at all times.
Do not exceed the speed limits. It is 60 km/hr on the city roads and 90 km/hr for the highways.
Never drink and drive; if you are stopped and the driver's blood alcohol level is more than 50 mg. percent, it will be counted as a major offense.
Phuket Island is full of curves and hills, especially the area near Patong Beach, so always keep vigil and drive carefully.
Keep an eye on the motorcycles! They are notorious for their inability to follow traffic laws. Be careful!
Note that in Phuket Town, there are many areas – major beaches and business area – which have one-way roads, so plan your route accordingly.
---
How is the parking situation in Phuket?
It's not hard to find parking space in Phuket; therefore it is highly likely that you will be able to find a parking space for your HKT Airport car hire. It is also seen that most hotels offer free parking service for their guests, and if you are able to find a public area, you will be glad to know that most of them allow you to park free of cost (exception: busy area!).
---
Parking on the roadside?
It is easy to find a parking space for your car in Phuket, except in some busy roads in Phuket Town and Patong Beach, so never park your car on the roadside unless there is a sign which states that 'you can'. It is so because, if found police may lock your car using chains; in that case, you will have to visit the police station to pay penalty, then only your car will be released.
Road trip from Phuket to Bangkok
Here is a sample itinerary that you can use, so, make the best use of your vacation time while driving from Phuket to Bangkok in your HKT Airport car rental.
Day 1
Koh Yao Noi
Leaving Phuket without experiencing Koh Yao Noi will leave a big hole in your conscience. So don't miss it at any cost!
From the airport, you can directly reach the Rassada Pier in less than 25 minutes; from there you can get a ferry.
Points of Interest in Koh Yao Noi
Koh Nok
Naka Yai Island
Duck Ventura Park
Ao Sai Beach
Surat Thani
Koh Yao Noi to Surat Thani- Driving Time: 3 hrs
Places to see on the way: Khao Yai
Points of Interest in Khao Yai
Khun Dan Prakarn Chon Dam
Thap Lan National Park
Pha Kep Ta Wan
Scenical world
Khao Sok National Park
Points of interest in Khao Sok National Park
Cheow Lan Lake
Ratchaprapha Dam
Si Phang-nga National Park
Khlong Phanom National Park
Stay Overnight; Places to stay near Khao Sok National Park
Khao Sok Cabana Resort
Khao Sok Royal Cliff Resort & Spa
Khao Sok Las Orquideas Resort
---
Day 2
Chumphon
From Surat Thani To Chumphon - Driving Time: 2 hr 43 minutes
Places to see in Chumphon
Mu Ko Chumphon National Park
Chumphon National Museum
Sairee Beach
Ngao Waterfall National Park
Prachuap Khiri Khan
Chumphon to Prachuap Khiri Khan - Driving Time: 2 hr 28 minutes
Places to See in Prachuap Khiri Khan
Cicada Market
Sam Phan Nam Floating Market
Vana Nava Hua Hin Water Jungle
Mrigadayavan Palace
Suggested accommodations for Overnight stay:
Prachuap Beach Hotel
X2 Resort Kui Buri
Golden Beach Hotel
---
Day 3
One day in Hua Hin
Prachuap Khiri Khan to Hua Hin - Driving Time: 1 hr 36 minutes
Top 10 Things to Do in Hua Hin
Since Hua Hin is such a major Attraction, spend a day here and add more meaning to your road trip. Here are the top things that you can choose from:
Hua-hin-night-market
Khao Hin Lek Fai
Hua Hin Railway Station
Hua Hin Vineyard Hills
Plearnwan Hua Hin
Palace of Love & Hope
Santorini Park
Cicada Market
Wat Huay Mongkol, Hua Hin
Khao Luang Cave
---
Day 4
Damnoen Saduak Floating Market
Hua Hin to Damnoen Saduak Floating Market - Driving Time: 1 hr 55 minutes
Things to Do Near Damnoen Saduak Floating Market
Wat Sai Floating Market
Maikaew Pier
Coconut Sugar Farm
Damnoen Saduak Elephant Village
Drive to Bangkok
Damnoen Saduak Floating Market to Bangkok - Driving Time: 1 hr 32 minutes
Stay overnight. Suggested Accommodation: Red Planet Hotel Asoke, Bangkok
---
Day 5
One Day in Bangkok
Things to Do in Bangkok in a day
Grand Palace & Wat Prakeaw
Wat Arun (The Temple of Dawn)
Soi Rambuttri
Soi Cowboy
Rooftop Sunset Cocktail
Asiatique The Riverfront
Khlong Tour
Dinner Cruise
Chinatown Market
Partying in RCA
Know More about Phuket Airport (HKT)
Phuket Airport is the second busiest airport in Thailand, in terms of both passenger traffic and freight volume. HKT Airport is the primary gateway to the Phuket Island- a tourist paradise situated in the southern part of Thailand.
HKT Airport serves as an operating base to over 10 airlines, handles over 14 million passengers every year and is comprised of two terminals and a single runway. It plays a vital role in promoting travel and tourism in the southern region as well as throughout the kingdom.
Key Facilities Available at Phuket International Airport
The following key facilities are available in the Arrival and Departure Halls at the HKT Airport:
---
---
---
ATMs and Money Exchange:

13 Automatic Teller Machines and 5 currency exchange counters are collectively available in both the terminal buildings at HKT Airport.

Food Options at HKT Airport

Phuket Airport houses a couple of food concessions, including restaurants, snack bars, and cafeterias. The main restaurant is present on the third floor of the main terminal building and serves delicious Thai and Intercontinental food.

HKT Duty-Free and Other Shops

Phuket Airport houses over 10 shops, including four duty-free outlets for international passengers leaving the EU.

HKT WIFI & Phones:

Free Wi-Fi internet access and public telephones are available throughout the Phuket Airport.
Drive to the best beaches in Phuket from HKT Airport
Phuket is best-known for its beaches. Instead of hauling for taxis and wasting your time and money, rent a car at Phuket International Airport and drive straight to the best beaches in Phuket Province.
Kata Beach: 46.7km from Phuket Airport via Route 402.

Average Time: 1 hr 15 minutes.

Patong Beach: 39.6km from Phuket Airport via Route 402.

Average Time: Approximately 1 hr.

Surin Beach: 23.3km from Phuket Airport via Route 402 and Route 4030.

Average Time: 37 minutes.

Laem Singh Beach: 24km from Phuket Airport via Route 402.

Average Time: 37 minutes.

Bang Tao Beach: 16.8m from Phuket Airport via Route 4018.

Average Time: 31 minutes.

Freedom Beach: 40.4km from Phuket Airport via Route 402.

Average Time: 1 hr 15 minutes.
Popular Attractions near Phuket Airport
Phuket's key attractions are certainly its pristine beaches, but certainly, there's more to Phuket than that. Here are a few attractions (including beaches) located nearby the HKT Airport. Rent a cheap car from VIP Cars and drive your way to these wonderful attractions without any hassle:
Patong Beach

Key Feature: Raucous nightlife, restaurants, bars, and cafes.

Location: 36 km from HKT Airport

Fastest Route: Route 402

Phuket FantaSea

Key Feature: Cultural Theme Park; Thai Culture Show, and Thai Buffet.

Location: 26.5km from HKT Airport

Fastest Route: Route 402

Wat Chalong

Key Feature: The most important Buddhist Temple in Phuket

Location: 38.5km from HKT Airport

Fastest Route: Route 402

Big Buddha Phuket

Key Feature: It's a magnificent 45-meter tall marble Buddha Statue

Location: 46.3km from HKT Airport

Fastest Route: Route 402

Flying Hanuman

Key Feature: The best zip line adventure in Phuket

Location: 36.4km from HKT Airport

Fastest Route: Route 402