Car Rental San Fernando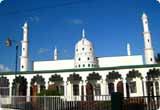 Spread across 8 sq mi, San Fernando is one of the largest municipalities of Trinidad and Tobago. Also known as the country's industrial capital, the city is home to number of petrochemical refinery as well crude oil and natural gas processing units. A major tourism hub, San Fernando is also renowned for number of worth seeing attractions such as, Gulf City Shopping Complex, Pitch Lake, Skinner Park, National Cinema, Jama Majid, and Lower High Street. Piarco International Airport, located about 36 miles away from the city centre, is the nearest aerodrome facility to San Fernando.

Search no further than VIP Cars powered San Fernando car rental deals!