Car Rental Montgomery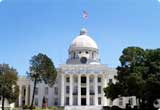 Montgomery is a city located on the Alabama River and the seat of the county by the same name. The capital of the US state of Alabama, this city was the former capital of the confederacy and a major city during the African American Civil Rights Movement. Nowadays this city is better known for its famed southern hospitality, pleasant weather and hi-tech jobs. Montgomery Regional Airport is the main airport serving this city and has a few direct flights to major cities around the region.

Montgomery is a historical city with many attractions for travelers to see in it. The Old Alabama Town consists of a 19th century village with authentic 19th and early 20th century buildings and is a popular attraction for travelers. Other major attractions in Montgomery include the Alabama State Capitol, the Civil Rights Memorial, the Rosa Parks Library and Museum and the Montgomery Zoo.