Car Rental Juneau Cruise Ship Dock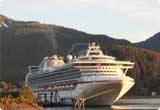 Juneau is Alaska's busiest cruise port and ships docks at severalberths close to the downtown. Some ships may require to anchor and tenderbecause of berths being full. If you are fortunate, you will dock either alongside the Mount Roberts tramway or adjacent to the public library. You can factuallywalk away the ship into a shop, bar or restaurant. Juneau offer brilliant shopping straightaway adjacent to the ships. South Franklin Street counterparts the ships and offers ample restaurant and shops. Many of the International shops establish in the Caribbean are also situated in Juneau. Juneau has a lot to do and see. The wonderful Mendenhall glacier is only around 12 miles from town and offers numerous opportunities to visit it. Helicopter tours to Mendenhall are tremendous.

Get best economical car rental deals at Juneau Cruise Ship Dock from us.