Car Rental USA Alaska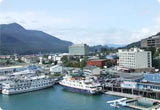 Located in the northwest extremity of the North American continent, Alaska is known for being home to 20,320-foot high Mount McKinley.
Capital city Juneau is the most popular tourist destination, as the city is only few kilometers from the massive Mendenhall Glacier. Anchorage is another important and the largest Alaskan city. Homer is home to many Alaskan National Parks and is known for its fishing which how it got the title of 'Halibut Fishing Capital of the World'. Located on the southwestern side of Alaska, Kodiak is an island known of its thousands of year of heritage.

Upper Kenai River is an outstanding place almost all time of year to enjoy rainbow, trout and salmon. Skilak Lake is another great place for colossal rainbow trout and also one of the best-looking areas of the state, hiking, camping, hunting, and fishing are activities quite popular here. An Anchorage, Fairbanks, Denali, Valdez driving ring also offer lot to see and do for two weeks or more and can be reasonably affordable with camping and a car rental.
Call VIP Cars to get your car rental!