Car Rental Little Rock Airport [LIT]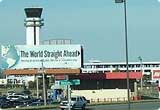 Little Rock Airport, officially known as Bill and Hilary Clinton National Airport/Adams Field, is a public airport serving the state of Arkansas. This airport serves over 2 million passengers annually and has nonstop flights to 13 major international gateway cities making it the largest commercial airport in the state. This airport is used for general aviation and by air taxis and military aircrafts.

The major airlines operating out of Little Rock Airport are Allegiant Air, American Airlines, Delta, United Express, and Southwest Airlines who provide connections to destinations such as Orlando, Dallas, Chicago, Atlanta, Denver, Detroit, Memphis, Charlotte, Las Vegas and Washington. This airport takes cares of passengers needs and has customer care representatives spread around the premises. Its many amenities include the Market Place which has bistro's, a Starbucks café and free concerts by popular musicians every 1st and 3rd Friday.