Search & compare best Chicago O'Hare Airport (ORD) car rental deals
Looking for a cheap car rental for Chicago O'Hare Airport (ORD Airport)? Need look no further!
We make it easy for you to search & compare car hire deals for Chicago O'Hare Airport through top suppliers so that you can book the cheapest deal for your travel. So, no matter whether you are planning a family vacation or a business trip, plan it with an ORD Airport car hire from VIP Cars and travel freely, in uttermost luxury!
Reasons to Hire a Car at Chicago O'Hare Airport with Us
A Huge fleet of Cars
Our offered car hire deals for ORD Airport cover numerous car categories; you can expect to find the following car types – Economy, Compact, Standard/Intermediate, Van/Minivan, SUV, Luxury/Premium and Convertible.
Easy to Use Booking Engine
Our smart booking engine allows you to compare deals by various suppliers at one place and helps you in finding the best deal in record time. It not only saves your hard earned money but also your precious time!
Beneficial Add-ons
Though every supplier offers its own set of add-ons, but here are a few common ones that you can rent with your ORD Airport car hire – Additional driver, toddler seat, and GPS etc.
Booking your Chicago O'Hare Airport Car Rental - How is it done?
You can book your Chicago O'Hare Airport car rental with VIP Cars in 3 easy steps.
SEARCH

You can search your ORD Airport car hire by filling the form with the asked information. When done, submit the form by clicking on the 'search' button.

SELECT

At this stage, you can narrow down your search as per your needs by using the filters given on the left pane, and can "select" the deal that suits you the best.

BOOK

On the booking page - if you want to - you can add extras like an additional driver, baby seats or GPS etc to your deal, and can book by paying a small amount.
After paying through our secure payment methods, you will receive an email confirmation with a voucher that you will need to show at the car hire desk at the time of pickup.
What do you need to rent a car at Chicago Airport?
Every car rental company asks for three mandatory documents – from its renters – that speak for their driving experience, financial capability and age respectively. Hence you should carry your driving license, credit card, and one proof of identification with you while picking up your car hire.
The following are the eligibility conditions that the main renter as well as the additional drivers must fulfill to be permitted to rent a car in Chicago.
The age requirements vary from supplier to supplier, but generally, the majority of our partner suppliers like Enterprise, Dollar, Thrifty and National allow you to rent a car in Chicago if you are 21 years of age. However, there might be a few car categories that you will not be allowed to rent if you fall in 'under 25' age category.
Note that besides the limitation on the car categories that the young drivers can rent, some suppliers also charge extra fee. These young driver surcharges depend on the supplier from whom you are renting your car.
The renter must have a major credit card in his name. If you don't have a credit card, it is possible that some car hire companies may allow you to use a debit card, but it is highly unlikely because in almost every company's policy a credit card is indicated as a must.
All the major credit cards, namely American Express, Visa, Mastercard, and Discover etc are accepted by our suppliers. Read about the accepted payment options in the car rental documentation; if you have any doubt you can call us on our helpline number.
Driving License: The renter must have a valid & a full driving license.
Car Hire Companies

at Chicago O'Hare Airport

Chicago O'Hare Airport has desks of a number of car rental companies where you can pick up a pre-booked ORD Airport car rental. Among them, the following are VIP Cars' partner suppliers:

Locations of car hire desks: The desks are not within the airport, hence, each company provides free shuttle service, which remains available 24 hrs a day. The pickup areas for the shuttle service are located at the Arrivals curb front, on the lower level, just outside of Baggage Claim.
Locations in Chicago where you can return

your ORD Airport rental car

For those who want to drop off their car hire in Chicago at a location other than Chicago O'Hare Airport, with VIP Cars you can return your car at any of the below-listed locations in Chicago:

While at N Lassalle, offices of almost all of our partner suppliers are located, at Midway Airport, there is just one place called Midway Rental car facility (5150 W 55th St, Chicago, IL 60638, USA) where you can drop-off your car. Note that, the address of the drop-off location is provided by the supplier on the rental voucher.
Chicago O'Hare Airport (ORD) - Overview
Chicago O'Hare International Airport, Chicago Metropolitan area's primary airport, is known by many names - Chicago O'Hare Airport, O'Hare Airport, Chicago Intl Airport and simply, O'Hare. Located on the far North West side of the city of Chicago, Illinois, ORD Airport is operated by City of Chicago Department of Aviation. The airport has four terminals, namely Terminal 1, 2, 3 and 5 plus nine concourses and 185 gates; all the terminals sit close by except from terminal 5 which is separated from others by a set of taxiways.
It provides flights to over 200 location around the globe, along with big names like Heathrow, Frankfurt, Atlanta, Dubai, Munich, and Dallas/Fort Worth etc.
| | |
| --- | --- |
| Address: | Chicago O'Hare International Airport, 10000 W O'Hare Ave, Chicago, IL 60666, USA |
| IATA Code: | ORD |
Chicago O'Hare Airport - Services and Amenities
&nbps;
Banking and Currency
Exchange
Seaway National Bank offers banking as well as currency exchange services at Chicago O'Hare Airport. Seaway's Currency exchange counters are located at two different locations at Chicago O'Hare - one in terminal 2 and one in T5 - where you can exchange your money from any of the offered 200 currencies.
&nbps;
On-Site Hotel: The Hilton
Chicago O'Hare Airport Hotel
Besides the exceptional accommodations, the Hilton Chicago O'Hare Airport offers a lot of other things like a sports bar, gaslight club, a UPS store, Gaslight club, Caffe Mercado and a Fitness Center.
Location: It is located opposite to Terminals 1, 2 and 3. If you are going to arrive at one of the domestic terminals, you can access it via underground walkways, and if you are at International Terminals you can make use of Airport transit system to reach it.
&nbps;
Food Options at
Chicago O'Hare
Local chefs and restaurants bring the best of Chicago's food to O'Hare through their concessions. So whether it is Italian beef sandwich, Chicago dog or deep dish pizza in Chicago style, you can experience Chicago's favorite foods at O'Hare Airport.
&nbps;
Chicago O'Hare Airport
Lounges
Domestic Terminals
United/Continental/Lufthansa (T1 – Gates: B6, B18, C16; T2 – Gate F8)
United Polaris Lounge(T1 - Gate C18)
American Airlines Executive Center (T3 – Gate K6/H6)
American/JAL/Iberia (T3 – Gate G8, K6/H6)
Delta Sky Club (T2 - Gate E6)
American Flagship Lounge (T3 - Gate K20)
International Terminal - T5
Airline / Lounge (Gate M7)
Swiss International / Austrian Lounge (Gate M8)
British Airways Terraces Lounge (Gate M12)
Korean Air (Gate M7)
SAS Lounge (Gate M15)
British Airways First Lounge, Cathay Pacific (Gate M12)
Swissport Lounge (Gate M7)
Road Trips from Chicago, Illinois
These are the most popular road trips from Chicago that you can easily take in your Chicago O'Hare Airport Car Hire. They are available as one-way option and you can request it by paying a small fee at the time of the pick-up.
Chicago to Geneva
41.9 miles west
---
49 minutes drive via I-88 E and I-290 E
Chicago to Lake Geneva
83 miles northwest
---
1.5-hour drive via I-94 E
Chicago to Ottawa
83.5 miles southwest
---
1.5-hour drive via I-80 E and I-55 N
Chicago to Saugatuck
140.5 miles northeast
---
2.20-hour drive via I-196 S and I-94 W
Chicago to New Glarus
151 miles northwest
---
2.5-hour drive via I-90 E
Points of Interest in Chicago, Illinois
If road trips are not what you are after, Chicago itself offers a bevy of great attractions that you can visit as per your schedule in your car hire; since these attractions are close to the airport, even layover travelers can easily visit them. The following are some of the best spots that you should not miss at any cost!!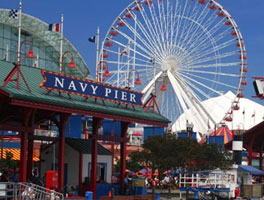 Navy Pier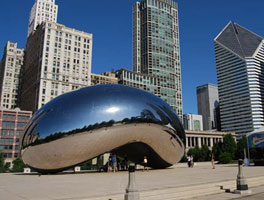 Millennium Park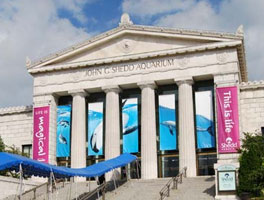 Shedd Aquarium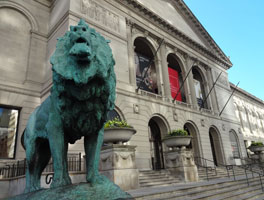 Art Institute of Chicago