Car Rental Moline Airport [MLI]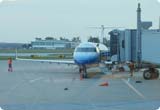 Moline Airport, or Quad City International Airport, is a public airport serving the Quad-Cities region of Illinois and Iowa. Located around 5 km's south of the central business district of Moline, this airport is the third busiest in the state and is owned by the Metropolitan Airport Authority. Although this airport does not have any commercial international flights, it is used by private corporations for trips to Europe, Asia and Africa.

Moline Airport is served by a number of low cost carriers such as Allegiant Air, American Eagle, Chautauqua Airlines, Delta Air Lines, ExpressJet, Pinnacle Airlines and SkyWest Airlines, who connect it to locations such as Chicago, Atlanta, Detroit, Denver, Dallas, Minneapolis, Phoenix and Las Vegas. This airport also has most modern amenities such as free Wi-Fi, gift shops, cafes, a restaurant, a bar, an art gallery, a post office and an 'in-airport' hotel.