Car Rental Baton Rouge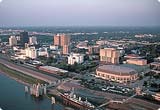 Located about 80 miles northwest of New Orleans and 272 miles east of Houston, Texas, Baton Rouge is the capital of Louisiana – The Pelican State. Located in state's northwest region, the city is renowned for its significant contribution to petrochemical and as well as medical research. Spread across 80 sq mi, Baton Rouge is one of the largest cities of Louisiana. Notable tourist attractions include - Independence Park Botanic Gardens, LSU Hilltop Arboretum, Shaw Center for the Arts, Yazoo and Mississippi Valley Railroad Company Depot, Baton Rouge Zoo, Mall of Louisiana, and Mall at Cortana. Baton Rouge Metropolitan Airport, located just 8 miles from the city centre, is the nearest aerodrome facility to Baton Rouge.

Choose to cruise ahead in style with VIP Cars powered Baton Rouge car rental deals!