Car Rental Lafayette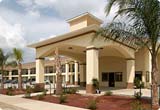 Located about 89 miles south of Alexandria and 135 northwest of New Orleans, Lafayette is one of the largest cities of Louisiana. Hub for manufacturing and fabrication businesses, the city boasts of a strong economy. Besides large industrial houses, Lafayette robust economic growth is triggered by its flourishing tourism industry. Be it historic landmarks, monuments, museums, cathedrals, shopping plazas, or retail malls, the city offers numerous points of tourist interest. With plenty of nightclubs, bars, discotheques, and restaurants conjuring a happening nightlife, you can't think of anything else other than fun!

Pick-up a rental car from Lafayette Airport, along with a cool Lafayette car rental deal and start exploring.