Car Rental Bemidji Airport (BJI)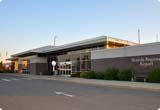 Bemidji Airport is a public use airport situated around 6 km northwest of the central business district of Bemidji in Minnesota. The airport is owned by the city of Bemidji and Beltrami County. Bemidji Airport is mostly used for general aviation. The airport is served by SkyWest Airlines. Bemidji Airport has two runways.Bemidji is anintermediate and beautiful city with interesting people. The old downtown district is established to the left of the Highway 71. A rectangular area houses number of restaurants and shops that serve the city's tourist trade. The lake extends to the north and is delineated with big homes and access points and provides a magnificent view.

To visit all the attractions near the Bemidji Airport, it is advisable to rent a car at Bemidji Airport from VIP Cars.