Car Rental Minneapolis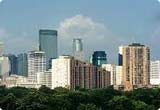 Minneapolis is the county seat of Hennepin County and the major city in Minnesota State. Minneapolis is alsonamed as the 'City of Lakes' and the 'Mill City'. Minneapolis is amply rich in water with 20 lakes and wetlands,creeks and waterfalls, and the Mississippi River. The Minneapolis park system has been known as the best-financed, best-designed, and best-preserved in America. The city's Chain of Lakes has 7 lakes and Minnehaha Creek and utilized for fishing, boating, swimming, and ice skating. Minneapolis Institute of Arts museum has one of the bestart collections in the country. Holidazzle Parade is anotablenight parade held in Minneapolis Downtown numeroustimes a week amid Thanksgiving and Christmas.
Book your Minneapolis car rental with us now.