Car Hire USA Minnesota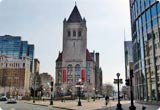 On your next trip to Minnesota, book cars from VIP Cars and make the most of your stay here. Minnesota is a picture- perfect place to spend your holidays in and having a rental car by your side will elevate your traveling experience. Plan your itinerary with a pre-booked Minnesota car rental deal.

Minnesota at a glance

Minnesota is a U.S state situated in the Midwestern region of United States. Renowned as the "Land of 10,000 lakes", Minnesota precisely has 11,843 lakes spread across an area of 10 acres in size or larger. The state is recognized as a center of Scandinavian American culture. Minnesota's foremost fine arts museums include the Walker Art Center, Minneapolis Institute of Arts, and Frederick R. Weisman Art Museum.

The Minnesota Fringe Festival is a yearly celebration of theatre, improvisation, and dance. Valley Fair is a theme park situated in Shakopee that includes 6 roller coasters, a variety of family rides, and a water park. Canterbury Park is a horse race track and card club casino situated in Shakopee. Svenskarnas Dag is one of the prime Swedish festivals in the U.S. Car rental in USA Minnesota is the easiest and comfortable option to visit the attractive destination at your own terms.

Rental cars in Minnesota

Having a car rental in Minnesota at your disposal will give you a chance to visit all the cities and tourist places in and around this state. Just rent a car for Minnesota and get easy access to cities like Duluth, Marshall, Bemidji, Brainerd, Rochester, Saint Paul and Minneapolis.

Some of the main places to visit in Minnesota include Minnesota Children's Museum, Enger Tower, Canal Park, Science Museum of Minnesota, Guthrie Theatre, Valley Fair theme park, Canterbury Park, Glensheen Haunted Mansion, and Lake Superior Zoo among others.

Why choose VIP Cars?

VIP Cars is an international rental broker which provides reliable and affordable car rental services in Minnesota. We do not imply any hidden charges on the rental cars provided by our suppliers and make sure that you get the cars in the best possible condition. The acceptance of multiple currencies also enables travelers from all across the globe to book their rental cars with us.

Whether you are visiting Minnesota on a vacation with your family or for business purposes, we will make sure that you get the best car rental deals and packages.

So hurry up and plan your next trip to Minnesota with VIP Cars!!