Car Rental Kansas International Airport [MCI]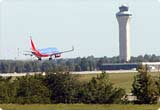 Kansas International Airport is a public airport serving the US state of Missouri. Located 24 km's northwest of downtown Kansas City in the Platte County, this airport serves over 10 million passengers annually and is ranked among the top 5 airports in North America. This airport is also the only midsized airport to receive 5 stars in all areas of the ranking requirements. This airport has three terminals along with the facility to service and repair large aircraft as well.

Kansas Int'l Airport is served by a number of most major airlines in America and offer direct and indirect connections to destinations such as Denver, Atlanta, Dallas, Chicago, Phoenix, Las Vegas, Minneapolis, Charlotte, Toronto, New York, Washington, Los Angeles and San Francisco. It has a number of amenities in it such as free Wi-Fi, retail stores, fast food joints, bars restaurants and cafes.