Car Rental St Louis Airport (STL)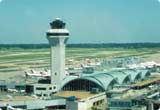 St Louis Int'l Airport is the largest and busiest airport serving the state of Missouri in the US. Officially called the Lambert-St Louis International Airport, it is named after Albert Bond Lambert, an aviator, Olympic silver medalist and the manufacturer of Listerine. This airport is renowned for its iconic terminal, its ground breaking air traffic control along with its status as a hub for the former Trans World Airlines. This airport has two main terminals with Terminal 1 being used mostly for international flights and passengers.

St Louis Airport serves over 13 million passengers annually and is used by a number of major airlines. It provides connections to destinations such as Atlanta, Chicago, Denver, Dallas, Minneapolis, New York, Detroit and many more. St Louis Airport also has a number of modern amenities in it for the convenience of travelers.