Best Car Rental Deals for John F. Kennedy Airport (JFK)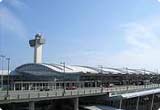 Who doesn't like to save money on a trip? And to be able to save while travelling in comfort is an option most people won't refuse. On your next trip, hire a car in New York and drive around the city with the utmost ease and forget the hassle of getting into a cab every time you want to go somewhere. If you're entering New York via the John F. Kennedy Airport, you can skip the part where you stand in a long queue to rent a car by pre-booking your car rental online before you land. VIP Cars gives you the best options to hire a car at JFK Airport with added benefits and exceptional services so your visit to the city is better than you planned.
It is advisable to rent a car for John F. Kennedy Airport in advance as it being a busy airport, the demand for rental cars is always high.
Benefits of Hiring A Car for John F. Kennedy Airport (JFK) with VIP Cars
Widest variety of rental cars for JFK Airport among multiple segments ranging from mini/compact to SUV/luxury.
Beneficial standard insurances by suppliers including Collision Damage Waiver and Theft Waiver.
Add-ons like navigation systems and extra child seats available for more comfort.
Highly secure online payment system that accepts multiple currencies.
24x7 booking support with highly trained customer executives who are available on our helpline.
Why is Renting a Car in New York Better Than Public Transport?
Driving a rental car in New York is much cheaper than travelling in cabs.
When you're driving on your own, you have the option to take the scenic route.
Due to rising competition between car hire suppliers, the prices are cheap.
Freedom to travel anytime and anywhere on your own.
Car Hire Services at JFK at Odd Hours
At the John F. Kennedy Airport, if your flight is scheduled to land late at night, the supplier may charge some additional fees to provide the rental car at out-of-service hours. In the case of a delay in your flight, the suppliers usually agree to provide services out of their normal working hours, and additional charges may or may not apply, depending on the supplier.
Add-Ons Available For John F. Kennedy Airport Car Rental
Child Seats
GPS
Ski Racks
Additional Drivers
Booster Seat
In addition to these, VIP Cars also provides the following inclusions:
Collision Damage Waiver
Theft Waiver
Third Party Liability Insurance
Unlimited Mileage
Uninsured Motorist Protection
Customer Facility Charges
Homeland Security Fees
Taxes and Fees
Car Rental Partners at John F. Kennedy Airport
VIP Cars has associations with the following suppliers in providing car hire for John F. Kennedy Airport -
Ace
Alamo
Dollar
Enterprise
National
Thrifty
These major international car rental companies along with some local agencies offer services at the JFK Airport. The car hire service desks are located in the baggage claim areas in all terminals.
Driving Restrictions
In case the renter intends to cross a border to a different country/state, it is advised that the renter informs the supplier regarding the permissions. In the event of crossing borders, additional charges and documents may be applicable depending on the location and the supplier.
Cancellation of a Car Rental Booking
If the customer wishes to cancel their car rental booking for John F. Kennedy Airport, it is possible at any point of time. However, it must be noted that a full refund is given only if the customer informs about the cancellation at least 48 hours before the pickup.
In the event of a no-show at the time of the pickup, no amount is refunded by either the supplier or VIP Cars.
A Brief Guide to the John F. Kennedy Airport, New York
One of the three airports in New York, JFK is one of the busiest airports in America. With six terminals and four runways, the airport handles over 58 million passengers annually. The airport serves over 90 airlines that carry out operations to countries in all continents. The airport has parking spaces for almost 15,000 vehicles.
JFK Airport has six terminals numbered from 1-8, skipping 3 and 6 which have been demolished. All six terminals are connected by the AirTrain system, a rail service that also connects the airport to a few major locations in New York.
Major facilities at the airport include -
ATMs, payphones and free Wi-Fi in all terminals (for up to 30 minutes).
Conference and meeting rooms with secretarial facilities in the various available lounges.
Duty-free shopping in the international departure areas in all terminals.
Luggage stores, lockers, showers, resting lounges, baby-changing rooms and a chapel in every terminal.
Long-term and short-term parking spaces that are also connected by the AirTrain.
Medical offices and nursing stations in all terminals.
Currency Exchange Services -
Terminal 1 - Lenlyn Ltd. Ice Currency
Terminal 2,4,5,7,8 - Travelex Currency Services, Inc.
The entire airport is accessible to passengers with physical disabilities and any kind of special assistance, if required, can be arranged by calling the airport beforehand.
Popular Places to Visit in New York
Central Park
The most urban park in New York, where you can take a walk in the vast estate or visit the Central Park Zoo inside the park. Other activities include bird-watching, boating and carriage rides.
---
Empire State Building
The most iconic building in New York, it has 102 floors and offers the most stunning panoramic view of the city from the observation deck on the top.
---
Statue of Liberty
France's gift to America in the 1800s, this neoclassical sculpture still stands strong and high, and is one of the most visited places in New York.
---
Metropolitan Museum of Art
This is the largest art museum in America and has a permanent exhibit of over 2 million artworks. The artworks in the museum include ancient paintings and sculptures from Europe and also modern American art.
---
Rockefeller Center
Covering 22 acres between the 48th and 51st Streets in the city, the complex consists of high rise commercial buildings and is a National Historic Landmark.
---
Radio City Music Hall
Also called the Showplace of the Nation, this entertainment venue located in the Rockefeller Center is used to host concerts, television recordings and sports matches. It is also home to the dance company the Rockettes.
Tips for Driving in New York
New York is filled with cars, which is why the speed limit is just 30 mph.
Avoid turning to the right lane as it's illegal and most of the buses stop there for people to hop on and off.
Although most people ignore it, but honking is illegal in New York City and carries a fine of 350 dollars.
Driver must be 16 years of age.