Car Rental Niagara Falls Airport (IAG)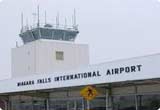 Niagara Falls Airport is a joint civil-military; public-use airport situated around 6 km east of the central business district of Niagara Falls in Niagara County, New York. The airport was opened in 1928 as a city-owned municipal airport. The airport is owned and operated by Niagara Frontier Transportation Authority. The airport partakes in its runways with the Niagara Falls Air Reserve Station. This airport handled general aviation, airline services, and military aircraft of all sizes. Niagara Falls Airport has one passenger terminal and three runways. The terminal has one ground-loading gate and one Jetway.

Niagara Falls Airport lies in Class D airspace and has an operating FAA control tower. VIP Cars provide high-quality car rental services at Niagara Falls Airport to both business and leisure travelers.