Car Rental Grand Forks Downtown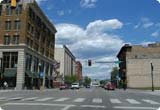 Settled on the western bank of the River Red, Grand Forks Downtown is a major commercial center of the Grand Forks city. Spread across 80 acres, the place is home to several commercial establishments, offices, corporate headquarters, and as well as nightclubs, bars, and restaurants. A historic settlement, Grand Forks Downtown is listed among the US National Register of Historic Places. With plenty of worth seeing places like, Amazing Grains Natural Food Store, Toasted Frog, Drea's Hookah Lounge, Giuseppe's Italian Restaurant, and Farmer's Market, scattered throughout the downtown, a rental car is the most preferred commuting medium for business as well as leisure travelers.

Grab a frugally priced Grand Forks Downtown car rental deal from VIP Cars in just three easy steps!