Car Rental North Bend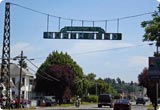 Located approximately 32 miles southeast of Redmond and 183 miles northeast of Portland, North Bend is a beautiful city in Oregon's Coos County. Spread across 6 sq mi, the city is home to beautiful ocean beaches, which attract leisure tourists in large numbers. Other points of interest include - Pony Village Mall, one of the largest shopping malls of Oregon, Mill Casino, Bandon Dunes Golf Resort, and the Oregon Dunes National Recreation Area, a popular attraction among wildlife enthusiasts and nature lovers. Sprawling across 128 sq km, the protected dune reserve is dotted with sand dunes as high as 150 m, providing numerous recreational opportunities such as, camping, horseback riding, photography, canoeing, hiking, and fishing.

Explore the wilderness in a rental that best suits your driving requirements. Book a super saver North Bend car rental deal from VIP Cars today!