Car Rental USA Puerto Rico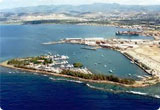 Whether you are fantasizing about striking surfing waves, the picture-perfect sunbathing beach or a challenging golf course, Puerto Rico offers travelers a magnificent range of opportunities. An unincorporated territory of the United States situated in the northeastern Caribbean, Puerto Rico contains an archipelago that comprises of the main island of Puerto Rico and a number of smaller islands.

Puerto Rico's rain forest is a must-see. It expands over a mountain, which takes you to a lush and green area surrounded by stunning environment. The bioluminescent bays close to Fajardo and in Vieques are an experience that should not be missed. Rio Camuy Caverns is a 45-minute directed walking tour of the foremost cave, Cueva Clara including a view of the 3rd largest underground river in the world.
Travelers can experience economical and hassle-free car rental for Puerto Rico with us.